General admission
PRICES

Zona del Estadio

Público
Socio

West Stand

From 50€
Grada Baja
135€
95€
Grada Alta
135€
95€
Tribuna
170€
119€
Primer Anfiteatro
150€
105€
Segundo Anfiteatro
115€
81€
Tercer Anfiteatro
80€
56€
Cuarto Anfiteatro
50€
35€

East Stand

From 50€
Grada Baja
135€
95€
Grada Alta
135€
95€
Tribuna
170€
119€
Primer Anfiteatro
150€
105€
Segundo Anfiteatro
115€
81€
Tercer Anfiteatro
80€
56€
Cuarto Anfiteatro
50€
35€

North Stand

From 45€
Grada Baja
80€
56€
Grada Alta
80€
56€
Tribuna
95€
67€
Primer Anfiteatro
85€
59€
Segundo Anfiteatro
70€
49€
Tercer Anfiteatro
65€
46€
Cuarto Anfiteatro
45€
32€

South Stand

From 45€
Grada Baja
80€
56€
Grada Alta
80€
56€
Tribuna
95€
67€
Primer Anfiteatro
85€
59€
Segundo Anfiteatro
70€
49€
Tercer Anfiteatro
65€
46€
Cuarto Anfiteatro
45€
32€
Hospitality
| AREAS | LOCATION | PRICES |
| --- | --- | --- |
| European Cup Room | Lower Main Stand West (Section 108) | 265€ |
| Veterans Room | Lower Main Stand East (Section 130) | 265€ |
| Royal Hall | East Upper Main Stand (Section 127) | 310€ |
| Museum Room | 2nd Tier - West Stand (Section 4407) | 310€ |
| Asador Restaurant | Grandstand - East Stand | 425€ |
| Ballon d'Or Room | Grandstand - West Stand (Section 207) | 425€ |
Real Madrid - CSKA Moscow
Information
: According to current UEFA legislation and regulations, seats for tickets assigned to supporters of the visiting team, which are only available for purchase through CSKA MOSCOW, will be located in an area duly separated from the rest of the audience for security reasons. Real Madrid therefore reserves the right to refuse entry to the stadium to supporters of the visiting team with tickets purchased through other means, not located in the area provided for that purpose.
West StandFrom 50€

East StandFrom 50€

North StandFrom 45€

South StandFrom 45€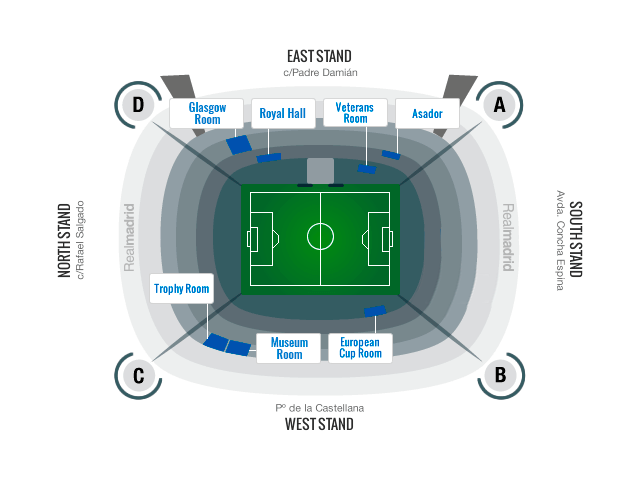 Hospitality
HOSPITALITY
Hospitality tickets

on sale
General admission tickets
TICKET SALES PERIOD
SEASON TICKET HOLDER MEMBERS
From 15 november at 12:00 to 19 november at 11:59.
30% DISCOUNT
NON SEASON TICKET HOLDER MEMBERS
From 20 november at 10:00.
30% DISCOUNT
REAL MADRID FANS
From 23 november at 10:00.
GENERAL PUBLIC
From 26 november at 10:00.
Telephone sales

Hospitality tickets

:
+34 91 398 43 77
Box Office

Club Members:

15/11/18 at 12:00 to 19/11/18 at 11:59.
Non-season ticket holders:

20/11/18 at 10:00.

Madridistas:

23/11/18 at 10:00.

General Public:

26/11/18 at 10:00.

Open Monday through Sunday from 10:00 to 19:00

On match days, ticket offices will only sell tickets for the match held that day.
Season-ticket holders
who acquired their seat during the pre-sale period will be able to access the stadium just with their season-ticket card; no other ticket will be needed.
As a consequence of
UEFA regulations
, some season ticket holders' seats may be affected, in which case the club will provide a similar one.
In this game, the ticket downloaded in mobile will be the only valid access document for purchases made online and telephone. Print at home ticket will not be valid for this match.
Atención al Socio: +34 91 344 54 45
Línea de Atención al Público: +34 902 32 18 09