NOTICE
Sunday 22nd October​

From 10:30 a.m. till 15:45 p.m. complete Tour without dressing rooms.

From 15:45 p.m. till 17:15 p.m. it's only possible to visit the panoramic view and the Museum.

Tour Bernabéu
Panoramic View of the Stadium
Tour Bernabéu
'Best Club in History' room
Tour Bernabéu
Real Madrid Dressing Room
Tour Bernabéu
Tunnel, dugouts and pitch
Sensations room
Presidential Box
Press Room
Official Store
NEW INTERACTIVE AUDIO GUIDE!

A fun, innovative digital experience, which is a one of a kind globally and allows you to play whilst visiting Tour Bernabéu.
1

PANORAMIC VIEW OF THE STADIUM

2

'Best Club in History' room

3

SENSATIONS ROOM

4

Photomontages

5

PITCH
6

PRESIDENTIAL BOX

7

REAL MADRID DRESSING ROOM

8

Tunnel, dugouts and technical area

9

PRESS ROOM

10

OFFICIAL STORE
01:30 The Tour lasts approximately an hour and a half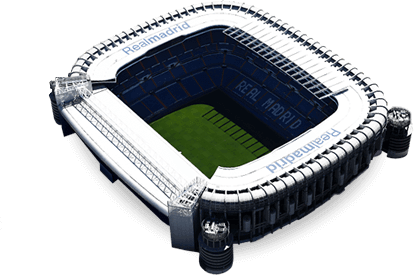 | | |
| --- | --- |
| Telephone | +34 91 398 43 70 |
| Email | tour@corp.realmadrid.com |
| Timetable | Open every day except the 25th of December and the 1st of January |
| Non-match days | Monday to Saturday: from 10.00 to 19.00 - Sundays and public holidays: from 10.30 to 18.30. |
| Match days | On match days, tours are available until 5 hours before the beginning of the game. After that time and until 3 hours and a half before kick-off, it will only be possible to visit the "Best Club of the 20th Century" room, "Sensations Room" and the Panoramic View of the Stadium. |
| TICKET OFFICE | Tickets are sold at Box Office 10, beside Gate 7 (Paseo de la Castellana, entrance at Tower B). |
| PRICES | Adults €25, Children (up to 14 years old) €18.00, Adult Membership Card holders €17.00, Junior Membership Card holders €13.00. Season-ticket holders get in for free when they present their membership card (not their season-ticket) at the ticket office. Combined School Tickets |
| THE ROUTE | The tour is self-guided and includes: a panoramic view, the "Best Club in History" room, the Sensations Room, the pitch, the presidential box, the dugouts and technical area, the players' tunnel, the dressing rooms, the press room and the club's official store. |
| ACCESSIBILITY | Wheelchair users cannot access all the parts of the Tour but they will be offered a free visit to the "Best Club of the 20th Century" room, "Sensations Room" and the technical area which also includes entry for one person to accompany them. |