General admission
PRICES

Zona del Estadio

GENERAL PUBLIC
T.C.M
Socio

Fuente del Berro

From 50€
Extensibles Filas A-H
105€
89€
73€
Extensibles Filas I-M
105€
89€
73€
Planta 0
95€
80€
66€
Planta 2
70€
59€
49€
Planta 2 Superior
50€
42€
35€

Felipe II

From 50€
Extensibles Filas A-H
105€
89€
73€
Extensibles Filas I-M
105€
89€
73€
Planta 0
95€
80€
66€
Planta 2
70€
59€
49€
Planta 2 Superior
50€
42€
35€

Goya

From 35€
Extensibles Filas A-N
65€
55€
45€
Extensibles a partir fila O
65€
55€
45€
Planta 0
55€
46€
38€
Planta 2
45€
38€
31€
Planta 4
40€
34€
28€
Planta 6
35€
29€
24€

Jorge Juan

From 45€
Extensibles Filas A-N
65€
55€
45€
Extensibles a partir fila O
65€
55€
45€
Planta 0
55€
46€
38€
Planta 2
45€
38€
31€
Hospitality
| AREAS | LOCATION | PRICES |
| --- | --- | --- |
| Hospitality Stand | Level 0, Felipe II Stand | 200€ |
Real Madrid - Barcelona Lassa
Information:

Away supporters tickets: for the purposes of general information we communicate that, in keeping with the existing legislation (RD 203/2010), the sale of tickets will be done exclusively through the visiting Club/Public Limited Sports Company in an area suitably sectioned off from the home supporters. Real Madrid reserves the right to refuse entry to the stadium to away supporters holding tickets acquired through other channels and which have not been allocated in the area specified for this purpose.
Fuente del BerroFrom 50€

Felipe IIFrom 50€

GoyaFrom 35€

Jorge JuanFrom 45€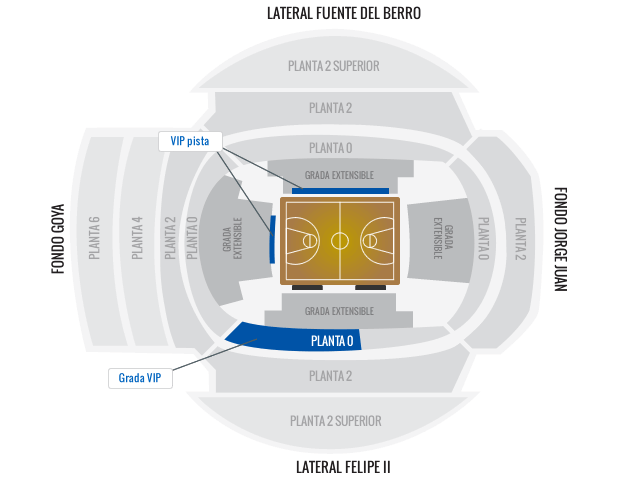 TICKET SALES PERIOD
NON-SEASON TICKET HOLDERS
Starting 5 february at 12h.
30% DISCOUNT
REAL MADRID FANS
Starting 7 february at 10h.
15% DISCOUNT
GENERAL PUBLIC
Starting 8 february at 10h
Box Office

Main ticket offices at Santiago Bernabéu Stadium:
Open Monday through Sunday between 10h and 19h.

Ticket office at WiZink Center:
Open from 2 hours before the start of the game.

On match days at the Santiago Bernabéu Stadium, ticket offices will only sell tickets for the match held that day.
Tickets for the disabled will only be available for purchase at ticket offices of the Santiago Bernabéu Stadium and the WiZink Center from 2 hours before the start of the game.

Season-ticket holders should access the WiZink Center with their season-ticket card.